May 21, 2019
Hallmark Unveils Latest Social Responsibility Results with its 2018 Caring in Action Report
Third annual report profiles the company's culture in the workplace and positive impact in the areas of community involvement, sustainability and diversity and inclusion.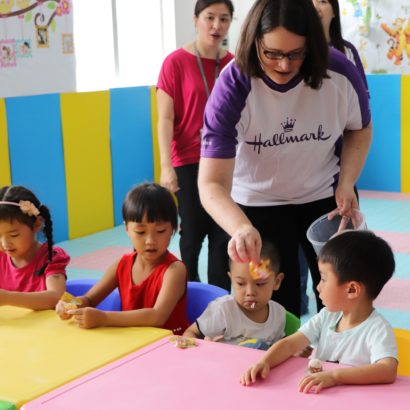 KANSAS CITY, Mo. (May 21, 2019) – Hallmark has released its third annual Caring in Action Social Responsibility Report featuring work during 2018 made by the global company's diverse portfolio of businesses in the areas of community, diversity and inclusion and sustainability.
https://issuu.com/hallmarkcardsinc/docs/pac19-359_srr_master_2018_issuu_fin_8cd1ac857e02f4?e=0
"We are honored to be able to enrich lives where even one pebble of progress can have a ripple effect, spreading to impact the greater good," explained Don Hall, CEO. "The world needs care now more than ever, so our work must continue."
In its 2018 edition of Caring in Action, the company features stories from its businesses including Hallmark Greetings, Hallmark Retail, Hallmark Home & Gifts, Crayola, Crown Media Family Networks, and Crown Center. Also included is an overview of its workplace culture, profiles of diverse leaders from Corporate Strategy, Hallmark Greetings, Crown Center and Crown Media offering insights into their leadership styles and business; and testimonials from organizations and communities Hallmark serves.
Results highlight Hallmark's 2018 community involvement, sustainability, and diversity and inclusion progress including:
Donated 262,000 meals through Harvesters, accumulated nearly 50,000 volunteer hours, and helped to aid more than 1,200 nonprofits
Surpassed its 2020 goals of sourcing 99 percent of its paper from known, sustainable sources; met its goal of a 50% reduction in greenhouse gas emissions; and within striking distance of its recycling goal with 53% of its packaging and merchandising featuring recycled fiber
Earned recognition as one of the "Best Places to Work" by the Human Rights Campaign for the fourth straight year, in addition to being named one of America's Best Employers, America's Best Employers for Diversity, and America's Best Employers for Women (No. 3 overall) by Forbes and Statista.
The report can be regularly found on the About page of Hallmark's corporate website.
Media Contacts
Andy DiOrio, APR
Hallmark Cards, Inc.
816.545.0243
newsroom@hallmark.com
About Hallmark
For more than 100 years, family-owned Hallmark Cards, Inc. has been dedicated to creating a more emotionally connected world. Headquartered in Kansas City, Missouri, and employing more than 20,000 worldwide, the company operates a diversified portfolio of businesses. The Hallmark Global business designs and sells greeting cards, gifts, ornaments and gift packaging in more than 30 languages with distribution in nearly 100 countries and 100,000 rooftops worldwide, including a network of company-owned and independently owned Hallmark Gold Crown stores in five countries. Crayola® offers a wide range of art materials and creative play toys designed to spark children's creativity around the globe. Hallmark Media operates three cable networks – Hallmark Channel; Hallmark Movies & Mysteries; and Hallmark Drama – as well as Hallmark Movies Now, a subscription video on-demand streaming service. Crown Center is a real estate development company that manages the 85-acre hotel, office, entertainment and residential campus surrounding Hallmark's headquarters. For more information, visit Hallmark.com. Connect on Instagram, TikTok, Facebook, Pinterest, YouTube, LinkedIn and Twitter.
HALLMARK TODAY
Recent News