August 23, 2018
Hallmark Hosts Ninth Annual Hallmarket Art Festival Sept. 15 with New Offerings and Expanded Event Footprint
Event open to the public features creations from more than 100 Hallmark employee exhibitors, family activities, food trucks, musical guests & more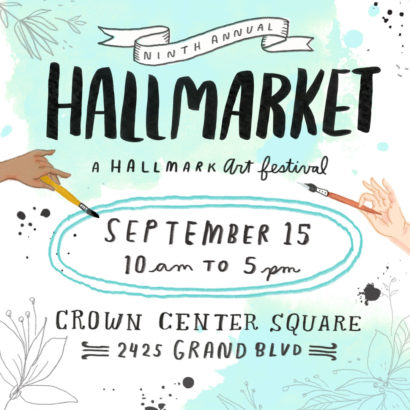 KANSAS CITY, Mo. (August 23, 2018) – Hallmark will host its ninth annual Hallmarket Art Festival on Sept. 15 in Crown Center Square, boasting new attractions in 2018 and more than 100 Hallmark employees' and retirees' hand-made artwork available for purchase in a variety of forms, such as paintings, ceramics, fabric, home décor and jewelry.
"Hallmarket highlights the true creative spirit and collaboration of our Hallmark community," said Dean Rodenbough, Hallmark vice president of external affairs. "It's incredible to showcase what our employees do in their time away from the office and attendees can meet the local artists and walk away with an original piece of art for a great value."
The event is open to the public from 10 a.m. – 5 p.m. and free to attend. New attractions this year include:
Kaleidoscope on the Square: Bring the kids along to experience Kaleidoscope-inspired magic at Hallmarket with the new catapult painting station. Kids (and adults) can create their own one-of-a-kind artwork using a catapult to fling paint through the air, in addition to making their own creation and receiving a free souvenir mini-kaleidoscope.
Card Sending Station/Think.Make.Share Experience: Share the power of a card to connect with friends and family in Kansas City or across the country. Stop by to pick out a free card and learn about creative ways to address envelopes from Hallmark artists who work on the Think.Make.Share. creative studio blog.
Seven Musical Performances: Hallmarket will feature the following local musicians, hosting a new performer each hour:
Three new food trucks to soon be announced.
Details
When: 10 a.m. to 5 p.m., Saturday, Sept. 15, 2018, rain or shine
Where: Crown Center Square, 2425 Grand, Kansas City, Mo., 64108
Event information: Hallmarket Facebook Event Page
Event Experience: Hallmarket Art Festival Snapshot
Admission: FREE. Purchases may be made directly from the artists
Parking: FREE. Available in the Crown Center complex garages
Join the conversation on Instagram, Twitter and Facebook by using the hashtag #Hallmarket.
About Hallmark
For more than 100 years, family-owned Hallmark Cards, Inc. has been dedicated to creating a more emotionally connected world. Headquartered in Kansas City, Missouri, and employing more than 20,000 worldwide, the company operates a diversified portfolio of businesses. The Hallmark Global business designs and sells greeting cards, gifts, ornaments and gift packaging in more than 30 languages with distribution in nearly 100 countries and 100,000 rooftops worldwide, including a network of company-owned and independently owned Hallmark Gold Crown stores in five countries. Crayola® offers a wide range of art materials and creative play toys designed to spark children's creativity around the globe. Hallmark Media operates three cable networks – Hallmark Channel; Hallmark Movies & Mysteries; and Hallmark Drama – as well as Hallmark Movies Now, a subscription video on-demand streaming service. Crown Center is a real estate development company that manages the 85-acre hotel, office, entertainment and residential campus surrounding Hallmark's headquarters. For more information, visit Hallmark.com. Connect on Instagram, TikTok, Facebook, Pinterest, YouTube, LinkedIn and Twitter.
HALLMARK TODAY
Recent News