Administrative Professionals Day
Administrative Professionals Day recognizes and celebrates the work of secretaries, administrative assistants and other office professionals for their contributions to the workplace.
Administrative Professionals Day is always observed on the Wednesday of Administrative Professionals Week.
More than 3 million secretaries/administrative assistants are part of the U.S. workforce. (Source: U.S. Department of Labor, 2020)
Hallmark began producing Administrative Professionals Day cards in 1973.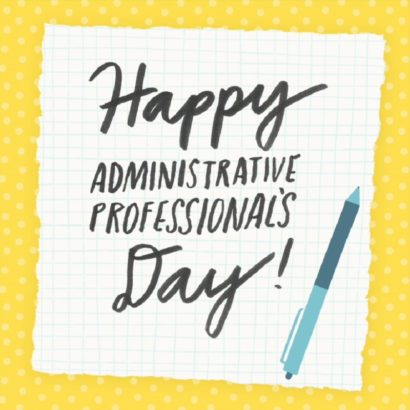 Holiday History
Celebrated on April 26, 2023
Three people led the effort to create Administrative Professionals Day/Week: Mary Barrett, a past president of the National Secretaries Association – now called the International Association of Administrative Professionals (IAAP); C. King Woodbridge, president of Dictaphone Corporation; and Harry F. Klemfuss, public relations account executive at Young & Rubicam.
U.S. Secretary of Commerce Charles Sawyer proclaimed the first observance of National Secretaries Week as June 1-7, 1952. Wednesday, June 4, 1952, was designated the first National Secretaries Day. In 1955, the National Secretaries Association changed the dates to the current celebration during the last full week of April.
The name of the observance was changed to Professional Secretaries Day/Week in 1981 when the National Secretaries Association became Professional Secretaries International (PSI).
In 1998, PSI changed the organization's name to the International Association of Administrative Professionals (IAAP) and the name of the occasion was changed again in 2000  when the IAAP designated the holiday as Administrative Professionals Day/Week. The name change reflects the changing job titles and expanding responsibilities of today's administrative workforce.
Featured in
Administrative Professionals Day
In Stores & Online
Available at Hallmark Gold Crown® stores nationwide, online at Hallmark.com and wherever Hallmark products are sold. Use the store locator on Hallmark.com to find the nearest retailer.