Hallmark Signature
Hallmark Signature is the fastest growing premium greeting card brand.
Signature cards are the best of the best – featuring premium paper and detailed embellishments that make these cards stand out.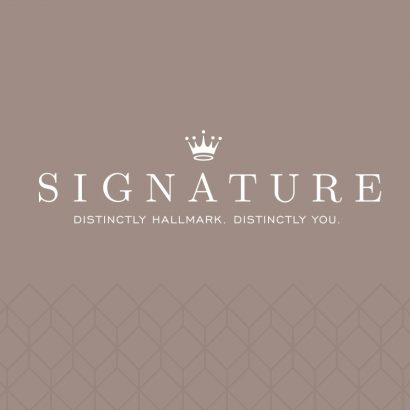 Overview
The Hallmark Signature Collection is a new offering of handcrafted everyday greeting cards. Each card is designed with beautiful papers, rich textures and just the right embellishments.
"These cards are perfect for shoppers who like sophisticated, dimensional designs," said Dan Foster, Hallmark vice President of Creative Commercialization Greetings, "Consumers told us they wanted cards that were meaningful and authentic, as well as surprising, unexpected and appropriate for a keepsake."
Fresh, sophisticated designs are paired with concise and relevant messages in this collection. New embellishments include removable headbands, usable chalkboards, hair pins, necklaces, satin and sheer ribbon, faux pearls, beads and feathers. Color, texture and embellishment give shoppers a sense of discovery.
"We wanted to meet all expectations in a stunning, uniquely Hallmark, 'wow!' kind of way," Foster added.
These cards are simply stated with style and substance, so the overall tone of the line is warm, genuine and fresh. Many of the cards feature imagery from current trends such as nesting dolls, fashion patterns, cupcakes, mustaches and even sushi!
Each card is individually wrapped to protect the special features, and inside the package is an envelope specifically selected to match. Some envelopes are enhanced by heavy stock, shimmer or a designed liner. Prices begin at $3.95.
In Stores & Online
Available at Hallmark Gold Crown® stores nationwide, online at Hallmark.com and wherever Hallmark products are sold. Use the store locator on Hallmark.com to find the nearest Hallmark retailer.