Shoebox
Shoebox is the nation's number one brand of humor cards, and the home of funny at Hallmark Gold Crown® stores and other Hallmark retailers since 1986.
Shoebox cards are quick, unexpected, casual, conversational and sometimes edgy. Intended for peer-to-peer, adult sending, these funny cards provide a range of humor styles from laugh-out-loud to smart and soft for a variety of relationships. They feature relevant, on-trend content, distinctive illustrations and eye-catching photography.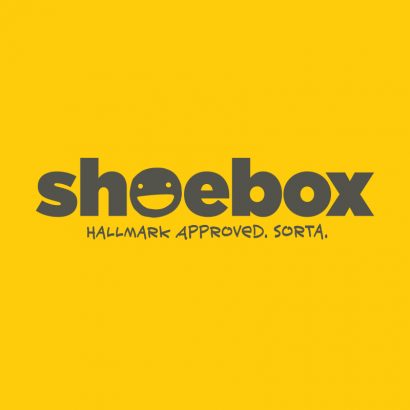 Overview
Recently, Hallmark's Shoebox line of greeting cards deepened its rebellious roots with a total brand overhaul. From the logo to the sentiments, the entire collection has been updated with a modern look and features language reflecting today's world in an irreverent and hilarious way.
"Shoebox has always been a one-stop humor destination for funny cards," says Sarah Tobaben, writing studio director. "To stay relevant, we made sure to focus the new cards in a way that reflects how people today talk, text, tweet and post."
Funny birthday cards, funny anniversary cards or funny cards for any occasion can be found at participating Hallmark retailers nationwide as well we online at Hallmark.com. Card price begin at $2.99.
Connect with Shoebox via the blog, on Facebook and Instagram.
In Stores & Online
Available at Hallmark Gold Crown® stores nationwide, online at Hallmark.com and wherever Hallmark products are sold. Use the store locator on Hallmark.com to find the nearest Hallmark retailer.