Hallmark Proudly Celebrates 100 Years in Gift Wrap
Hallmark didn't just invent gift wrap, we've transformed it. With stunning, premium-quality wraps, bags and accessories, and innovative, inspiring ideas to make it easy for everyone to wrap a beautiful gift.
Hallmark Offers the Very Best for Your Consumers
Advancing quality and value – Increased paperweights to roll wrap and bags
Innovative capabilities – Breakthrough innovation, inventive formats, expanded materials
extensive range, broad appeal – Robust portfolio includes multicultural and licensed products
Consumer and customer validated – Learning and iterating
Hallmark Gift Wrap Trends
Today, social media and digital communication are changing life in many ways – including the ways people want to present their gifts for the at the holidays. Now, people want to give gifts that are more expressive, experiential, nostalgic, and reflective of cultures. Hallmark's 2019 gift wrap offering is inspired by the way people are living today.
Share your style
People are looking for more personal ways to express themselves at the holidays. Hallmark gift wrap offers an extensive range of options for people to share their sense of style when they wrap their gifts, from fashionable to elevated to over-the-top.
Share an experience
Consumers are looking for ways to turn gift giving into more of an experience. That can mean sharing excitement by wrapping with a favorite character, celebrate with a bright and colorful design, or presenting a gift card in a fun way.
share a classic
Every want to step back into a simpler time now and then – and especially at the holiday. Nostalgia is a source of common ground and a way to feel connected to the past. Hallmark offers a variety of classic designs that bring to mind favorite traditions and fond memories.
Share a tradition
Our holidays are richer when they reflect our cultural heritage. And as America gets more diverse, people are more aware that their culture is an important part of who they are. For those who want to celebrate in ways that feel true to African American or Hispanic culture, these gift wrap offerings make it easy to make the connection.
(Source: Hallmark Trends Studio)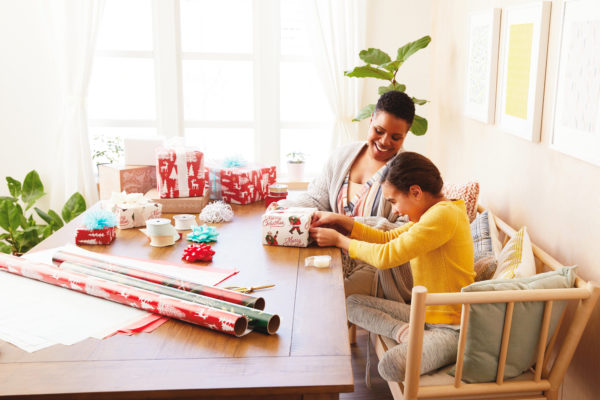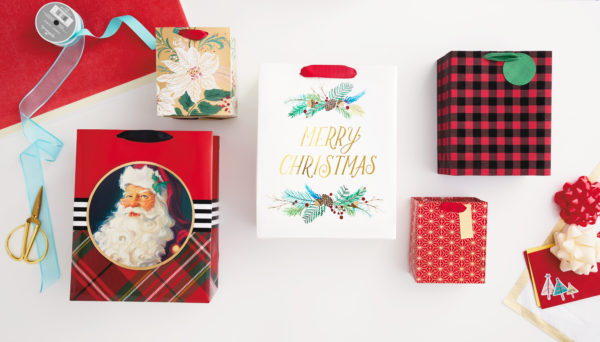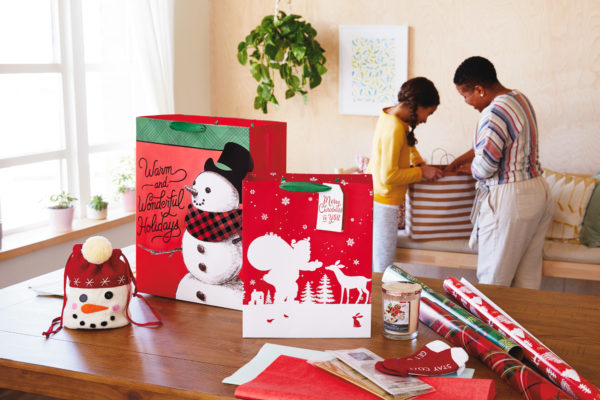 History of Hallmark Gift Wrap
Hallmark has always been on the cutting edge of gift wrap.
Hallmark can be credited with founding the modern-day gift wrap industry when, during the Christmas season in 1917, the Hall Brothers' store in Kansas City ran out of the red, green, white and holly tissue sheets that people used to wrap gifts. Some decorative envelope lining papers from France were brought in from Hallmark's manufacturing plant and put on top of a showcase for 10 cents a sheet. They sold quickly.
The next year, the sheets were offered three for 25 cents, and again, they sold out. Soon gift wrap became the first product Hallmark made that was a departure from greeting cards. From then on, Hallmark continued to lead the gift wrap industry through the years:
1930s – Developed Hall Sheen ribbon, the shiny kind that sticks to itself when licked like a stamp.
1970s – Introduced jumbo plastic gift bags for large items.
1987 – Introduced paper gift bags with handles.
1994 – Created curl cascade ribbons (ribbons that are curled and gathered together, ready to place on a gift bag or package).
2006 – Introduced gift bags and gift-card boxes with sound technology.
2008 – Introduced holiday gift bags with peek-buster motion-activated sound technology and fiber-optic light.
2010 – Created dimensional peel-and-stick gift trims as an alternative to a traditional bow on top of a package.
2017 – Introduced the Card Pocket on its gift bags, which allows consumers to easily store their greeting card and recipients to easily find it.
2018 – Launched Paper Wonder – a diverse collection of paper craft that includes gift bags featuring dimensional details and show-stopping designs.
2019 – Developed Wrap Sleeves – pre-wrapped gift boxes that seal with a simple adhesive strip and are finished with a ribbon and gift tag – making it easier than ever for people to wrap beautiful gifts.
Learn More About Hallmark's Diverse Portfolio of Products
Hallmark creates compelling and innovative greetings and gift wrap products that help people live caring and connected lives full of meaningful moments.