Creativity
The spirit of creativity and drive for innovation run deep at Hallmark.
Hallmark founder J.C. Hall, more entrepreneur than creative talent himself, knew that artists and writers were the magic behind his business, and he nurtured their creativity. He also constantly pressed for the new and better – product, process to produce it, marketing ideas to present it to the public.
That foundation is still part of everyday life at Hallmark. Just a few examples:

Creative Resource Library
An in-house library with 25,000 books and 150 magazines and newspapers from around the country and the world is available to any Hallmark employee for job-related research.

Art Materials Center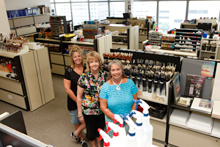 This artist's supply paradise has been in operation for more than 40 years. It stocks more than 5,000 types of art supplies and samples of Hallmark-specific processes, as well as a work space and spray booth for creating mock-ups and displays.
Image collections
Digitized archives of historical Hallmark images as well as collections of illustration and surface and decorative design are available for use by Hallmark designers.

One of the country's oldest corporate art collections holds major works by more than 1,100 artists. They're regularly loaned to museums, but what employees value most is encountering the work of David Park, Edward Hopper, Andy Warhol, Grandma Moses, Elaine de Kooning and others in corridors and common areas around the headquarters. Recently added digital pieces reflect innovation that is central to Hallmark's philosophy.

Creative experiences
Guest lectures, week-long events devoted to color, cultural trends and the written word, and symposia on creative leadership and innovation inspire employees throughout the year.

Innovation resources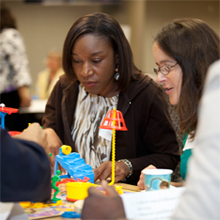 A space dedicated to "Learning, Exploring and Prototyping for Tomorrow's Hallmark" – the LEaP Lab – is a place for employees to use the latest hardware, software and technology in today's rapid prototyping process, crucial to new product development. A wood shop, fabric lab, 3D printers, and other resources also are available.