Community Involvement
"Hallmark is a true, long-standing partner in the fight to end hunger in our community. Their employees regularly come together to pack backpacks of food for children and spearhead food and fund drives. We greatly appreciate their commitment and dedication to our mission." – Valerie Nicholson-Watson, president and CEO, Harvesters – The Community Food Network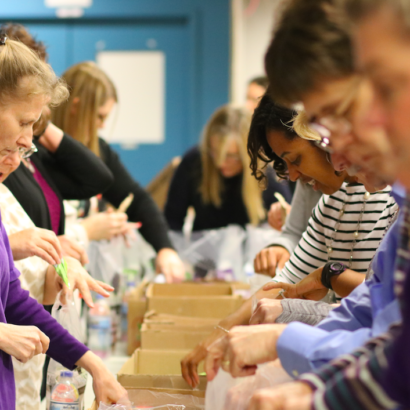 Hallmark, Crayola and Hallmark Media employees around the world are active and vital members of their communities. This has translated into successful partnerships with nonprofit organizations that support children and families, the arts and culture, and civic institutions.
Hallmark's community involvement primarily includes financial donations and employee volunteer services. Employees in each of Hallmark's businesses donate time and money everywhere the company has facilities, both domestically and internationally, including offices in the Unites States, Canada, Mexico, Asia Pacific and Europe.
Read Hallmark's latest Caring in Action Social Responsibility Report to learn more about the impact Hallmark makes on the communities in which it operates. Below are additional past examples of how we make an impact in the communities in which we serve.