— Care for Our Planet 2019 —
Even before corporate sustainability was trending, Hallmark was already taking steps to care for our planet. Since launching our paper recycling program in 1943, we have continued our efforts to support a healthy planet by using resources responsibly.
The company continues to make progress toward its 2020 sustainability goals. In 2019, we met or exceeded our goal of sourcing paper sustainably, as well as reducing greenhouse gas emissions and copy paper use. We are continuing to make progress year-over-year in reducing our water consumption and reducing our waste to landfill.
"Our corporate sustainability strategy continues to evolve as we adjust our focus to areas where our company can make the greatest impact," said Kristin Edie, Hallmark's product integrity director. "Looking ahead, we will be emphasizing how we can make a difference in three key areas: care for our forests, care for product sustainability and care for climate."
Hallmark is on a path to preserve the valuable resources on our planet by utilizing certified and recycled paper fibers in its products; increasing recycled content and recyclability of products and packaging; tracking our greenhouse gas emissions; and implementing renewable energy initiatives.
Download THE 2019 CARE FOR Our Planet Facts + Figures
---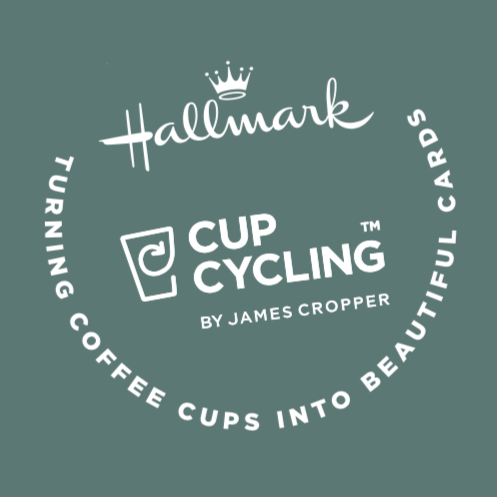 Turning Coffee Cups into Beautiful Art: How Hallmark UK Launched a New Sustainable Collection of Greeting Cards
What happens when an ordinary coffee cup isn't tossed in the trash? It is recycled and turned into a beautiful work of art! That is what Hallmark UK did when it partnered with James Cropper, a local paper mill in Cumbria, England. As the creators of a first-of-its-kind innovative process called "CupCycling®," James Cropper was able to remove the plastic liner on fast food and coffee shop cups and then turn the remaining fibers into beautiful paper used for greeting cards.
Hallmark Joins Two Sustainability Organizations
In 2019, Hallmark joined two sustainability organizations: How2Recycle and Sustainable Packaging Coalition. These memberships come as part of Hallmark's commitment to make products and packaging more recyclable and sustainable.
How2Recycle® is a standardized labeling system that clearly communicates to consumers how to recycle labeled products. Hallmark has set a corporate sustainability goal to use How2Recycle on all U.S. packaging by 2025 to inform consumers of the correct way to recycle packaging on Hallmark products.
Membership to the Sustainable Packaging Coalition® provides access to resources and working groups aimed at sharing best practices in packaging sustainability efforts, such as reducing plastic waste and creating recyclable and compostable packaging solutions.♦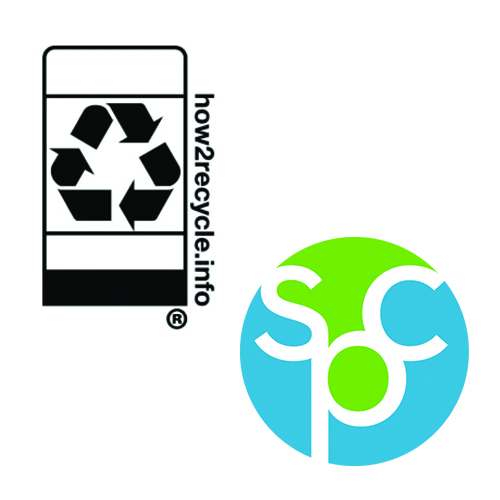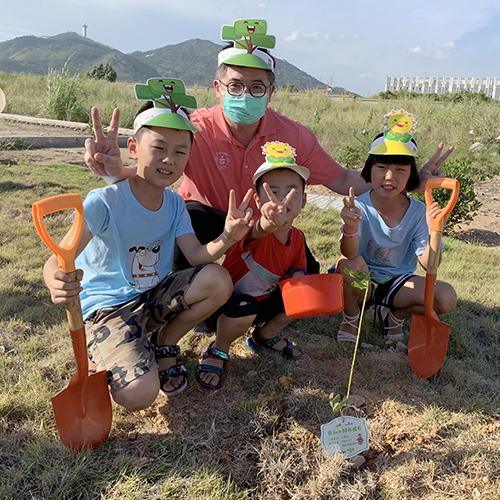 Hallmark International Plants Trees to Help Protect the Environment
Hallmark's employees in China supported sustainability initiatives in 2019 by participating in a tree-planting event held by non-governmental organization (NGO) Shenzhen Spring Environmental Protection Volunteer Association and incorporating tree-planting into its Family Friendly Spaces program at a supplier's facility.
Seventeen members of the Hallmark Shenzhen team learned how mangrove forests help sea ecology and how to promote environmental protection. The volunteers planted 200 trees during this activity.
Additionally, Hallmark introduced tree-planting to a Family Friendly Spaces (FFS) program at Gold Eagle, a supplier partner in China. FFS is a program that brings the children of migrant workers to the facility during their summer break so the families can spend more time together during the year. The tree-planting activity was aimed at increasing awareness among the children about protecting our planet. More than two dozen children participated and planted 30 trees at the supplier facility.♦
Crayola Creates Sustainable Packaging for Giant Coloring Pages
In 2019, Crayola began transitioning from plastic shrink-wrap on its Giant Coloring Pages to a newly designed paperboard "foldalope" that is recyclable. This move means consumers will not add 57,600 pounds of plastic into the waste stream every year, which equates to about 1,325 miles of plastic shrink-wrap! This is a follow-up to a transition to paperboard foldalopes on Crayola's Color Wonder products.♦
---
Facts + Figures