— UPDATED APRIL 2021 —
Since our company's start in 1910, Hallmark has believed our people are our greatest asset. Creating equitable and inclusive workplaces where all employees feel like they can bring their authentic, whole selves to work has always been one of our top priorities.  
2020 was an unprecedented year that posed new challenges for all companies around the world. Many employees shifted to working remotely due to the pandemic, needing to find innovative ways to stay engaged and connected to their colleagues. It was important for Hallmark to support our employees during a time of great uncertainty by giving them the tools they needed to work and the flexibility they needed to manage their lives.  
Equally important was the need for Hallmark to support employees by standing up for equality and justice. Although Hallmark's commitment to diversity and inclusion is inherently embedded in our company's vision — to create a more emotionally connected world by making a genuine difference in every life, every day — the events of 2020 issued a clear and resounding call. We have answered that call by taking steps to elevate our work with renewed energy, focus and accountability. 
"Hallmark considers an investment in D&I to be an investment in our company's future as data proves companies prioritizing D&I experience better business outcomes," said Kristen Harris, Hallmark's vice president of diversity and inclusion. "The leaders of our businesses recognize the opportunity and responsibility we have to elevate our visible commitment to this work across all of our brand's touchpoints." 
This is meaningful yet challenging work, but also Hallmark's reason for being. Few companies in the world can claim such a privilege — we are proud to be one of them. 
Download THE 2020 CSR Facts + Figures
---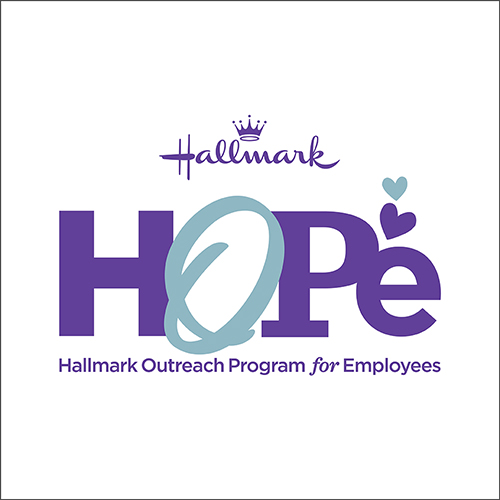 Offering Employees HOPE
UN SDGs + Hallmark CSR Goals:
Sustainable Cities + Communities  /  Family + Kids
After the pandemic upended so many lives, Hallmark employees stepped up to provide temporary relief to their colleagues and friends who had been financially hurt. The HOPE Fund provided small grants to employees who qualified. Funded by donations from employees and leaders, the HOPE Fund launched in May 2020. 
"Hallmark employees are at the heart of our caring company and they embody the spirit of giving," said Amy Winterscheidt, Hallmark's community involvement director, who facilitated the HOPE Fund. "When we began to see the financial impact this pandemic had on people, many Hallmarkers reached out asking what they could do to help their colleagues and friends. After careful research, we developed the HOPE Fund as a way they could give to those who needed it the most." 
From May through August 2020, the HOPE Fund provided more than 550 grants to employees at Hallmark headquarters and Crown Center, as well as the Hallmark plants in Lawrence and Leavenworth, Kan.; Liberty, Mo.; and Metamora, Ill.♦
Celebrating Lunar New Year with Manufacturing Partners
UN SDGs + Hallmark CSR Goals:
Family + Kids

To mark Lunar New Year in 2020, Hallmark continued a tradition set forth the year before by printing cards for those who help us make cards. Hallmark printed more than 2,000 Lunar New Year cards and gave them to workers at QP Printing, a supplier with facilities in China and Vietnam. The cards were printed with respective Chinese and Vietnamese sentiments for the employees in both countries as a way to show gratitude for their work.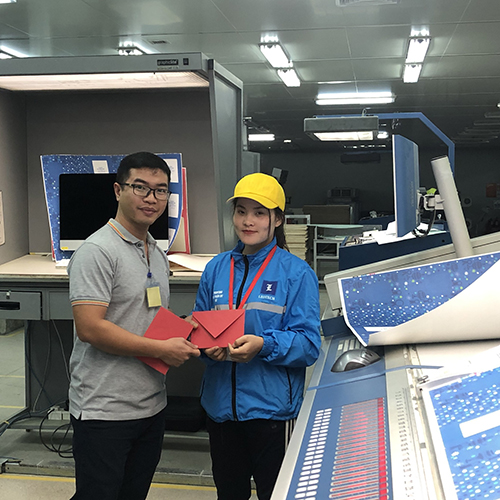 Protecting Those Who 

A

re Most Vulnerable
UN SDGs + Hallmark CSR Goals:
Family + Kids

In an effort to protect against forced and child labor, Hallmark implemented a Conflict Minerals Policy in 2020. Known conflict minerals include gold, tantalum, tungsten and tin. These minerals are more likely than others to be mined using unacceptable labor practices. 
---
Corporate Social Responsibility and UN Sustainable Development Goals
Hallmark currently aligns to 5 UN Sustainable Development Goals (SDGs). in addition to key goals unique to our corporate culture. Please use the legend below in reference to goals tied to initiatives throughout our CSR Report.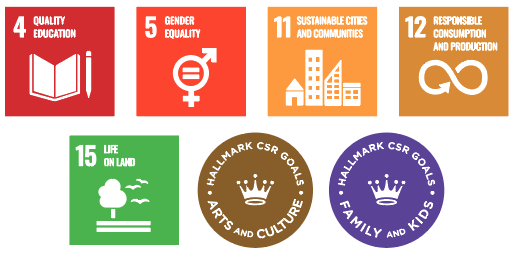 ---
Facts + Figures (2020 Outcomes)