– Care for Our Community 2019 –
Hallmark cares for its communities by supporting nonprofit organizations around the globe. In 2019, we recorded $12 million in monetary and product donations benefiting more than 1,100 organizations. Our employees also contributed a remarkable 61,000 hours of volunteer service.
"Giving back to our communities is at the heart of who we are at Hallmark," said Amy Winterscheidt, Hallmark's community involvement director. "Our thousands of Hallmark employees around the world embrace our culture of philanthropy and strive to make a positive impact in their communities year after year." 
Whether it's monetary donations to nonprofits, donating creative resources to make art that inspires children and families, or televising programs promoting animal adoptions, Hallmark's long tradition of corporate philanthropy aligns with the company's vision of creating a more emotionally connected world.
Download THE 2019 Care for our Community Facts + Figures
---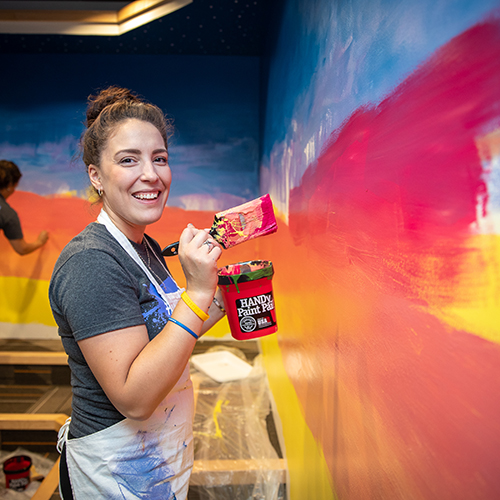 Leading the Way with United Way
Why are Hallmark and Crayola leading supporters of the United Way in their respective communities—the greater Kansas City area and Lehigh Valley, Pennsylvania? Because with thousands of nonprofits in our communities, United Way is the one looking out for the good of the entire community. The United Way is focused on the essentials of building a strong community: health, education and financial stability.
Giving the Basics to Families in Need
Over the summer of 2019, a group of 33 Hallmark interns in Kansas City gave back to the community by volunteering their time with Giving the Basics, a program that brings "dignity, health and the opportunity to thrive to struggling children and adults through procurement, fulfillment and distribution of hygiene products." The interns sorted through nearly 10 tons of personal dignity products while learning about how Giving the Basics partners with more than 140 nonprofits and 350 local schools and distributes these items to those in need. Most important, the interns embraced Hallmark's spirit of giving back and made a difference in our community.♦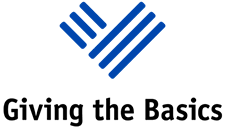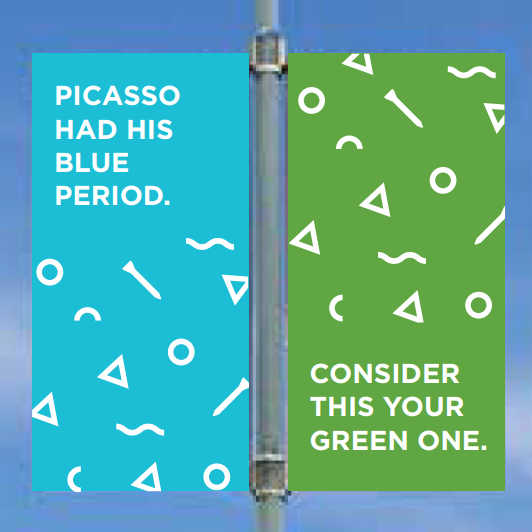 Bringing Mini Golf to Life in Kansas City
When the Nelson-Atkins Museum of Art in Kansas City needed creative support to launch a new miniature golf course on the museum's south lawn, it turned to Hallmark's creative community. One of the many ways Hallmarkers give back is by lending specific talent to nonprofits. In this case, volunteers from the Creative Marketing Studio (CMS) spent six months working with the Nelson team to concept and develop a branding and marketing package. Many of the volunteers reported working in the evenings and on weekends because the project was so fun.
Volunteers Give the Gift of Time Across the Country
Giving back to the community has long been at the core of Hallmark. Over the course of 2019, nearly 2,000 Hallmark, Crayola and subsidiary employees donated more than 61,500 volunteer hours, giving back to more than 300 organizations in their communities. Volunteer programs spanned across education, arts, essential services and fighting hunger.
In addition to community service, more than 200 Hallmarkers are in leadership positions in the Kansas City area, serving on boards of directors or providing professional expertise through skill-based projects. The majority of Hallmark's corporate officers and senior managers serve on nonprofit boards or are involved in volunteer activities every year.
Here are a couple of examples of Hallmarkers' volunteerism:
Mentoring program with Kansas City Public Schools (KCPS)
40 Hallmarkers spent one hour per week reading with an elementary school student
1,760 total hours of reading
Mentoring program with Longfellow Elementary School (KCPS)
24 Hallmarkers met with students one day per week to talk and do crafts/projects
1,056 hours of mentorship/relationship building

♦
Providing Children with Opportunity in the Urban Core
Hallmark has long been committed to early education and families in the urban core. Just down the street from Hallmark's Kansas City headquarters is Operation Breakthrough. This organization provides a safe, loving and educational environment for children and families living in poverty through advocacy, emergency aid and education. Hallmark partners with Operation Breakthrough in a number of ways.
Adopt-a-Family
Over five years, this program has grown into one of the most popular volunteer programs during the holiday season.
Hallmark doubled the number of families adopted from 55 families and 133 children in 2015 to 100 families and 295 children in 2019.
Through gifts for the children, a voucher for a holiday meal and a gift card to the mother of each family, Hallmark's total contribution to Operation Breakthrough was valued at more than $50,000.
Hallmark Learning Garden
Hallmark provided a one-time grant to Operation Breakthrough to clear unused grounds on campus and establish a new learning garden.
Children helped build the garden and are responsible for planting and tending as well as developing future community building opportunities such as staging a farmers' market.
As part of the culinary and health curriculum, the children also prepare produce harvested from the garden in the Operation Breakthrough kitchen.

♦
Feeding the Community, One Backpack at a Time
In the 26-county area covering northwestern Missouri and northeastern Kansas, one in eight people is food insecure. That means the person may have food today but doesn't know if there will be food tomorrow or enough food for the entire household. Harvesters Community Food Network's mission "is to feed hungry people today and work to end hunger tomorrow" by distributing food to more than 76 partner agencies such as food pantries and kitchens.
Hallmarkers take hunger seriously by donating their time and resources to supporting Harvesters with an annual food drive and packing BackSnacks—backpacks filled with nutritious, child-friendly food kids take home over the weekend. According to Harvesters, more than 100,000 children in its service area receive free and reduced-price school meals during the week, and many go hungry over the weekend. In 2019, Hallmarkers packed nearly 33,000 BackSnacks, bringing the total since 2009 to approximately 326,000.
And every summer, Hallmark employees in the Kansas City area participate in an annual food drive and in 2019 raised enough money in one week to provide 2.4 million meals. To raise awareness for the food drive, Hallmark employees show their caring spirit and creativity by building sculptures using nonperishable food items such as canned goods, cereal boxes and bags of marshmallows.♦
---
Facts + Figures