— UPDATED JUNE 2021 —
Hallmark cares for its communities by supporting nonprofit organizations around the globe. In 2020, the company recorded more than $9 million in monetary and in-kind donations benefiting 1,000 organizations. Our employees contributed nearly 30,000 volunteer hours.  
"Hallmark's culture of philanthropy remained strong in 2020, even with the pandemic making it a tough year for everyone," said Amy Winterscheidt, Hallmark's community involvement director. "We are impressed and proud of our employees who stayed connected with their communities and reimagined ways to give back and make a positive impact." 
Whether it's monetary donations to nonprofits, donating creative resources to make art that inspires, or giving away millions of cards to put more kindness and good in the world, Hallmark's long tradition of corporate philanthropy aligns with the company's vision of creating a more emotionally connected world. 
Download THE 2020 CSR Facts + Figures
---

Forming an Enterprise-Wide CSR Council
UN SDGs + Hallmark CSR Goals:
Quality Education / Gender Equality / Sustainable Cities + Communities  /  Responsible Consumption + Production / Life On Land / Arts + Culture / Family + Kids
In 2020, Hallmark formed an enterprise-wide corporate social responsibility (CSR) council. The purpose is to align CSR goals across the network of businesses including Hallmark, Crayola and Crown Media Family Networks. The council identified CSR focus areas where Hallmark businesses can make the greatest impact; key content pillars for storytelling and reporting; alignment with globally recognized impact indexes, such as United Nations Sustainable Development Goals; and strategic input and support for Hallmark business initiatives, among other deliverables.♦
Hallmark Gives Away Millions of Cards to Inspire More Caring
UN SDGs + Hallmark CSR Goals:
Arts + Creative Expression
When the world seemingly shut down in the spring of 2020 due to the pandemic, Hallmark knew we needed to do something to help people stay connected, especially during an uncertain and stressful time. Keeping in mind our promise to help people live more caring and connected lives filled with meaningful moments, we introduced an unprecedented one–million–card giveaway on March 27, 2020.  
---
Corporate Social Responsibility and UN Sustainable Development Goals
Hallmark currently aligns to 5 UN Sustainable Development Goals (SDGs). in addition to key goals unique to our corporate culture. Please use the legend below in reference to goals tied to initiatives throughout our CSR Report.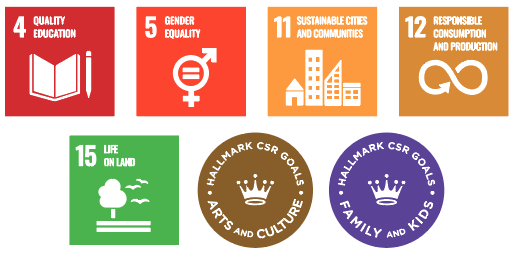 ---
Facts + Figures (2020 Outcomes)