Hallmark Manufactures and Donates 25,000 Face Shields to Front

l

ine Workers
In the weeks leading up to the 2020 holiday season, people were opening their mailboxes and finding Hallmark greeting cards filled with heartwarming messages. At the same time, Hallmark was also making a difference in the lives of people who were physically caring for others during the pandemic by manufacturing and donating nearly 25,000 face shields. 
"When we saw all the heroes who 

were 

working to care for others during this pandemic, we knew we wanted to help. We have two manufacturing plants

near our Kansas City, Missouri

,

 headquarters

 that make greeting cards and wrapping paper every day, so it was a no-brainer for us to step up and make face shields."

 
Smith Holland President, Hallmark Global
---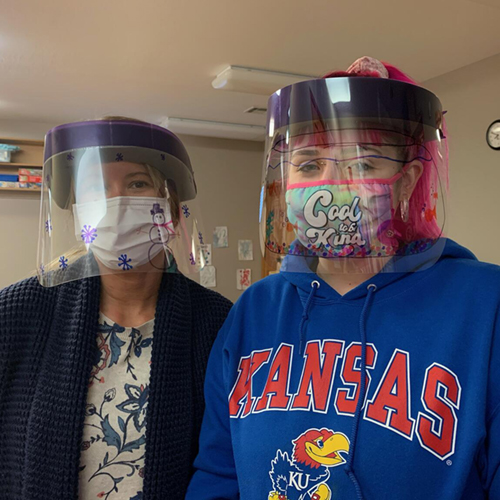 With the help of medical professionals, peers and manufacturing experts, a group of four Hallmark product engineers at the Lawrence Production Facility—a plant in Lawrence, Kansas, that makes 70 percent of Hallmark greeting cards sold in North America—designed and manufactured face shields utilizing machines that are typically used to produce stickers, display signs and labels, and plastic used for boxed cards lids. Our facilities in Leavenworth, Kansas, and Liberty, Missouri, distributed the 25,000 face shields to schools, community organizations and health departments across Kansas and Missouri. 
"Hallmark is a caring company and giving back to the community is at the core of who we are and what we do," said Beth Ward, Hallmark's senior vice president of supply chain. "We have talented people who care deeply about others, so when we decided to produce face shields, employees at our plants really stepped up to make it happen." 
United Inner City Services (UICS), a Kansas City, Missouri-based nonprofit organization, received 300 Hallmark-donated face shields for teachers and school staff to use at its three schools. Two of those schools are located in areas of Kansas City that had seen the highest number of  COVID-19 cases and deaths in 2020. 
"Our teachers are not only education leaders, but often residents of the neighborhoods they serve," said Deidre Anderson, CEO at UICS. "Hallmark's incredible gift will support our students, teachers and families during this ongoing pandemic and allow us to model safety and well-being through people our families know and trust." ♦