Corporate Responsibility Report
— UPDATED SEPTEMBER 2022 —
Hallmark's Corporate Social Responsibility Report is the story of how we're turning our company's culture of caring into meaningful action for the benefit and sustainability of our community, our planet, and our people.
While 2021 began with a sense of hope and potential return to normalcy after a tumultuous 2020, it ended up being another year filled with uncertainty and confusion, from a global pandemic to continued calls for social justice to environmental challenges to a health crisis. During these trying times, Hallmark's vision of creating a more emotionally connected world by making a genuine difference in every life every day is more relevant and needed than ever.
The events and challenges of 2021 reaffirmed our commitment to our workplace culture, our philanthropic efforts, and our sustainability initiatives. Our approach to corporate social responsibility ties back to Hallmark's promise of helping you live a more caring, connected life full of meaningful moments. It encompasses the efforts of our entire brand portfolio including Hallmark Global, Crayola, and Hallmark Media.
Whether we're helping to build deeper human connections through our greeting cards, gifts, and heart-warming movies or fostering creativity and innovation through the products and experiences we create for children, we do so in service to our brand promise and with the belief that when you care enough, you can change the world.
Changing the world happens one caring step at a time. We know our efforts account for only a small portion of the work that needs to be done, so we focus our investments toward making a difference in three key areas: our people, our community, and our planet.
Even with the progress we continued to make against our goals, we know our work is never done. The world needs more care today than ever before. Our Caring in Action Report is a reflection of our continued efforts to respond to this need and put more care into the world.
Download The 2021 CSR Facts + Figures
---
Corporate Social Responsibility and

UN Sustainable Development Goals
Hallmark currently aligns to 5 UN Sustainable Development Goals (SDGs). in addition to key goals unique to our corporate culture. Please use the legend below in reference to goals tied to initiatives throughout our CSR Report.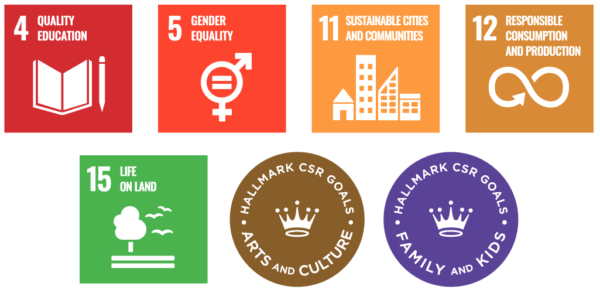 In August 2022 Crown Media Family Networks was renamed Hallmark Media.